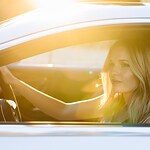 At Chevrolet of Ottawa in Ottawa, OH, we are always interested in helping our community reduce the glare when they drive. We have a few tips so that it isn't as hard on your eyes.
It doesn't matter if the glare is from the Sun or lights when you drive at night. It is usually not long enough to be unsafe, but sometimes it definitely feels like it. Besides using the visor in your car, consider checking your windshield to make sure it is thoroughly cleaned. A dirty windshield can cause more glare.
Also, talk to your eye doctor about polarized sunglasses and make sure your prescription is accommodating for glare if you or in your vehicle a lot. Removing shiny objects from your vehicle can also help with glare during certain times of the day. Getting used to adjusting your mirrors as you drive can help reduce the glare from behind your vehicle.